What Should I Do When I Am in Virgin Gorda?
This is a common follow up question I get after I talk to people about our villas. Of course, I recommend The Baths, talk about the beautiful beaches and snorkeling. I am always pushing people to at least go look at the Copper Mine Ruins because I find them interesting. And can't forget boat trips to Jost Van Dyke.
Each time we visit I try to do something new. With so many islands in BVI there is something for everyone and an endless possibility of things to do with your day. On our most recent visit in November, I got to experience two new excursions that I am so excited to share and recommend going forward!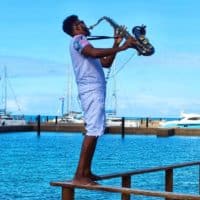 Oil Nut Bay Excursion
Our first excursion was to the Marina Village at Oil Nut Bay to do the Sunday Jazz Brunch. Since I am not a boat owner and I am not willing to hike from the end of the road at Gunn Creek to Oil Nut Bay, the property has always been a mystery to me. This destination for the wealthy that you can only get to by boat or helicopter seemed way above my station while at the same time it piqued my interest and whispered to me to find a way there.
Getting There
Getting there was very easy. They have a boat that leaves from Gunn Creek at half past the hour every hour from open to close. On the trip over, you will motor through North Sound. It was great to see the work being done at Saba Rock and Bitter End Yacht Club. Nova is situated in Deep Bay. The Oil Nut Bay property itself is not visible from Nova. Deep Bay is natural and serene with lots of turtles swimming about.
Brunch
The Sunday Brunch at the Marina is a great option for getting a small peek at this jewel in the North Sound. We grabbed a table for brunch/lunch first. Half our group ordered the Nova version of eggs Benedict (which were yummy). But I am telling you emphatically not to leave without ordering the chocolate pot. It's a small pot of chocolate with chocolate and chocolate on top. It was divine! I really love the vibe at Nova and the staff is top notch. The restaurant is open and chic with modern white furniture scattered around the deck and eating area.
Marina Village
Past the restaurant, the Marina Village Boutique had a nice selection of clothing and gifts. There were several other buildings as well, but with Marina Village being newly opened, I don't think they were all occupied yet. After a quick stroll around the boutique and a look at the small beach area next to the buildings, we settled into one of the overwater hammocks to enjoy a few cocktails and soak in the sun. We ended up staying for several hours, just relaxing, chatting, and taking in the views. This is one excursion I will definitely do again!
Necker Island Excursion
Our next excursion was a long awaited one for me…Necker Island. People often associate BVI with Richard Branson and his private island. For years I felt like I was missing the quintessential BVI experience. We booked our trip with Gumption's Learning Adventures.
Getting There
Gumption picked us up early that morning in his famous glass bottom boat at Gunn Creek. It's a short ride over to Necker Island and I enjoyed watching the sea floor below us. We docked and Gumption led us past the tennis courts to the Beach House. There, we watched a few videos about the conservation work with the lemurs and other animals that call Necker Island home.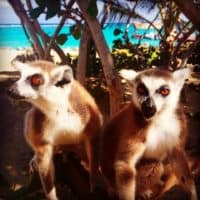 Lemurs
Then it was time to go meet the lemurs. Going in, we were met by their caretaker and told that the lemurs would most likely just jump on us when we entered. They did just that and I was shocked by how light they are, they just fly out of nowhere onto your shoulder. In my case, one chose to perch on my head for a minute or two…and NO ONE took a picture! My one regret.
Around the Island
Our next stop was the flamingo pond where we watched Gumption feed an enormous flock of flamingos. Afterward, he pulled out 2 buzzers and led a round of trivia about the flamingos and other inhabitants of the pond. Sadly, our group was not educated on these subjects, but we had fun trying. After, we were off to see the tortoises, then a walk to the gift shop, and finally a stop by the farm to visit the turkeys, ducks, miniature horses, and the obligatory chickens and roosters.
Gumption's Story
On our boat ride back, Gumption played his Ted Talk for us which, for someone who can watch Ted Talks all day, was the cherry on the top for me. Gumption himself is almost as impressive as Necker Island. It is fascinating to hear his story and he has so much pride in what he has done and his work. He is the model for what a tour guide should be; he makes it fun while freely sharing his knowledge and love of this beautiful place. It's been 3 months since our Necker Island excursion and I still look at my photo of me and Bill the lemur or the one with me and the tortoise every day. It's an experience that brings a smile to face!
Now, It's Your Turn!
Both of these excursions highlight to me what travel is all about. Oil Nut Bay Marina Village offers you the perfect spot to disconnect and relax, preferably on a hammock with a chocolate pot in hand. Necker Island offers a chance in the BVI to interact with animals you would otherwise have to travel much further afield to experience. Always travel with an open mind and an open heart! Come see us soon!